Hey Guys!
So this is a post about my current favourite lipstick- Natural Collection's 'Rose Petal', which I think is a great budget alternative to MAC 'Shy Girl'...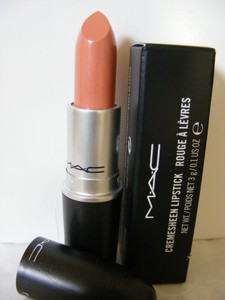 As you can see the colour is a very similar peachy pink nude to MAC 'shy girl' and a massive £11.50 less expensive! I'd say the finish is also similar to that of MAC cremesheen and I find it works even better on top of lip primer or vaseline as it stops it from clinging to dry patches on the lips after a few reapplications and makes it fade evenly. This fabulous lipstick is only £1.99 from Boots and you although the packaging gives away the budget price tag, the actual product feels far more expensive- it's moisturising, very long lasting and nicely pigmented.
Personally I think this really is the perfect everyday natural, but not too light, nude lipstick for summer that will flatter every skin tone and for a couple of quid why shouldn't you get it! I know my friend
faye
was shocked I found such a good lipstick in the Natural Collection range as some of the others are incredibly sheer and not as good, so I think it's just a case of finding the good ones, for example 'Apple blossom' is another really great nude (but a tad too light for some skintones) and I'll do a post on that soon and also my friend Lydia has one in 'Raspberry' that looked amazing on her! Just goes to show you shouldn't dismiss very cheap lippys!
Are you a fan of Natural Collection lipsticks? Or do you have any other budget lipstick dupes to recommend?
I've just spent the day doing uni work and having a picnic in the park with my friend Matt, I'm having an awful lot of those at the moment! Back to work now though, boo...
I hope you've all had lovely weekends!
Love Meg