Today I decided to do something a bit different with my nails as lately I've been too obsessed with my No7 stay perfect in beautifully black as it literally goes with everything and looks really cool, but I thought it was about time I found a new favourite look. You probably know I'm a big fan of Made in Chelsea and watching their come dine with me special last night inspired me to try and create a classy understated look with a bit of glamour that was very Caggie Dunlop rather than Amy Childs...
I wanted a really neutral main base colour as the Made in Chelsea girls tend to wear very neutral colours and luckily I had the perfect varnish as last week I went and spent the boots vouchers I'd been given for Christmas (I will do a full haul of all the stuff I got later) and as I had a £5 off No7 voucher as well (yes they are doing those little beauties again!) I headed straight for the No7 stay perfect nail varnishes, as I tried them in loads of different colours last time the vouchers were around and loved them, particularly as they only cost £2 with the voucher! I wanted to try out the current nude nails trend as a complete change from my obsession with black nails and found the perfect shade which was 'so simple'...
I think this could definitely become the next colour I have a little obsession with as it's so classy and understated and just the right shade of beige to be nude, but still dark enough to be noticeable. I also think it would be a great base colour for french manicures, so I might try doing that with it later! The only thing I do wish is that the consistency was a little thicker and the finish a bit more matte, although two thick coats does offer just about enough coverage so you can't see your white tips underneath. Here's Eva Mendes rocking the nude nails trend on the red carpet...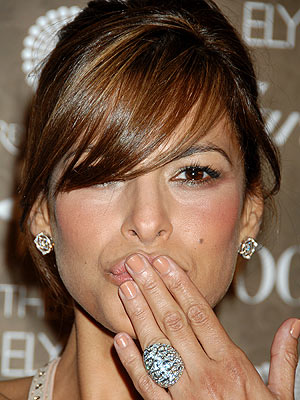 I'm also rather in love with the current trend of having your ring finger a different colour, as it makes your nails that bit more exciting, as demonstrated perfectly here by Vannessa Hudgens...
I think the ring finger trend works best when you use a colour that's a similar shade to the rest of your nails so it doesn't look too odd, so I painted my ring finger nails with a beigey metallic gold from Colour Works, which I adore and you might have seen me use for the base of my leopard print nails, which also helped to add a bit of Made in Chelsea glamour...
I then finished the look by adding some more Made in Chelsea glamour with a bit of subtle nail bling, which I did by sticking a square nail gem from my Front Cover nail set onto both of my ring fingers with Front Cover nail glue.
I have some larger round gems too and I think everyone should add some gems to their nail collection as they are super cheap, super easy and last a super long time! Here's the overall effect on my other hand...
What do you think? Are you fans of the nude nails and ring finger trends?
I hope all have wonderful Monday nights, sadly I really need to do some work on my essays now, but luckily I have my boyfriend here to keep me motivated!
Love Meg
x