Good evening girlies!
I thought I would use this gap between the first strictly come dancing and the results bit (I'm rooting for Harry by the way!) to do a quick blog post...
I was browsing back through a few of my old reviews today and realised a couple of my opinions of certain products have changed since I reviewed them, as sometimes initial opinions and opinions after using products for a couple of moths are different, so here is my first review revisited. Back in September I compared Collection 2000 liquid eye liner and Maybelline eye studio 24h lasting gel liner, if you want to read the original in full then it's here-
splurge-or-save-on-eye-liner.html
-but basically I concluded that I preferred to save by buying the Collection 2000 liner as it was only £2.99 and the pot lasted ages, however I think one of the main reasons I came to this conclusion is because I'd been using it for a few years and was very used to it, where as the Maybelline liner was a new purchase. Now after using the Maybelline liner for a few months I have come to a definite conclusion that I actually couldn't live without it and will probably never buy a different eye liner again!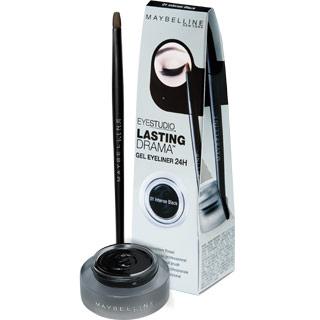 All the pros from my previous review still very much apply-
PREVIOUS PROS-
It lives up to its claims that it lasts all day
It also lives up to its claim that you can apply it to the top lid in one stroke
It never cracks or flakes
It has a very soft applicator brush, making application nice and gentle
Easier and quicker to apply than I thought it would be- I managed to apply it perfectly in a moving car!
It dries instantly on your eyelids
It never causes my eyes or skin to feel irritated or stingy
It's very easy to use under your lower lashes if you turn the brush so it's flat
However, after using this eye liner everyday for the past 3 months I now disagree with nearly all of my previous cons-
PREVIOUS CONS-
More expensive at £7.99 from boots-
-It is still this price, but well worth it for the quality of the product and £7.99 won't break the bank anyway.
The applicator is quite chunky making it hard to do precise flicks at the corner of your eyes
- After a bit of practise I've now learnt how to easily create the flicks I like with the applicator.
the gel doesn't glide onto your lid as easily as liquid does
-as long as you coat the brush with enough gel and don't let the gel dry out it does actually glide very smoothly onto your lid.
the gel isn't as dark and bold as I would like, so it doesn't stand out as much over dark eye shadow
-when I want the line darker I just go back over it.
I haven't used up a tub yet so I don't know how long it will last but you only seem to get a very small amount of gel
-This is the main thing I was wrong about, as although the pot looks tiny the one I got back in September is still going now even though I've used it everyday since!
Because the applicator brush is separate to the pot it's quite easy to lose and the tip also gets easily clogged with old gel
-This is the one thing that I still think is a con, as my brush is very clogged with gel now and I've almost lost it a few times, however next time I buy it I'm just going to make sure I clean the brush after every use and look after it!
Well I hope that's helpful to some of you! I thought it was important for me to let you know what I think now I've had the time to make a more informed opinion as I would hate for people not to buy this product just because of my initial impressions of it! I'm going to make sure I use every product I review for quite a long period of time in future, so I don't have to make too many review revisits!
I hope your all having a great Saturday night and enjoying Strictly like I am!
Love Meg
x